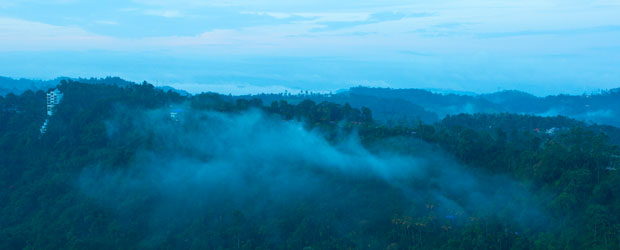 Situated 1,600 metres above sea level, Munnar was once known as the summer capital of the British Raj in South India. Sprawling tea plantations, picture-book towns, famous wildlife sanctuaries, holiday facilities, winding lanes, and friendly people make this a very popular resort town.
Munnar combines all the beauty and attractions that a hill station should possess. The thick natural forests around the town and the beauty of the lakes and reservoirs will enchant nature-lovers and adventure enthusiasts.
Eravikulam National Park is a major attraction for most tourists. It lies at the crest of the Anamalai ranges in the midst of evergreen tropical forests, with an abundance of rare species of animals and birds. For the endangered Nilgiri Tahr, this is one of the few breeding grounds.
The Chinnar Wildlife Sanctuary is home to a variety of animals like bears, gaurs, spotted dears and boars, apart from elephants, leopards and sambars. The name Munnar is derived from the peculiar existence of three mountain streams – Mudrapuzha, Nallathanni and Kundala.
Fauna and flora of this mountain destination will always be in the memory of any tourist passing through this wilderness.